Nismo Historical Complete Car Catalog - Part 1 (R1 & FSport Cars)
While doing some research recently for a another blog post we came across some interesting stuff that seems forgotten on the Nismo website. A small list of Nismo / Zele complete cars that were offered at one point to customers.
Zele International / CarsFactory was Nismo's dealership in the mid 2000's that sold Nismo speciality complete cars. Zele/Nismo's mission statement was:
"Ease of handling on the street and comfortable feeling, Excellent value at the circuit, overwhelming power and durability. Drawing a thought of one driver the ideal ,
based on a high- quality used car, Nismo tailor-made The
supreme sports car, NISMO package car. This special one that "NISMO Cars Factory" delivers
has a personality not in normal, and possibly more than a new car and creates your running.
That it's to be said that Nismo is comparable to Mclaren's MSO / Bespoke projects in todays exotic territory to tailor make a car suited for the customer. Whether its for street, track or both. Nismo aimed to provide bespoke make cars to their clients looking for not just any car that can be bought from a number of dealerships throughout Japan. Nismo built cars are not usually pushing large horse power numbers and instead are more focused on reliability along with performance. This was achieved for example in the latest bespoke project that Nismo has released for the skyline community with the Clubman Race Spec "CRS" in which was tested at Fuji speedway by doing 40 consecutive laps and being able to drive it self back to the shop or the owners home.
2002 R34 GTR VspecII Nur with R1engine & lots of Nismo.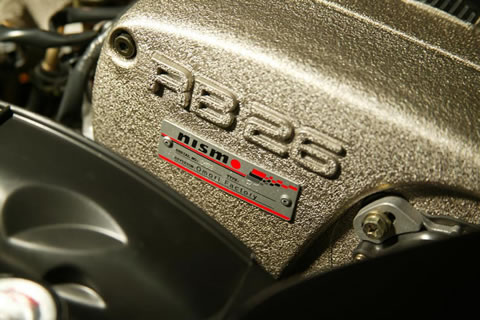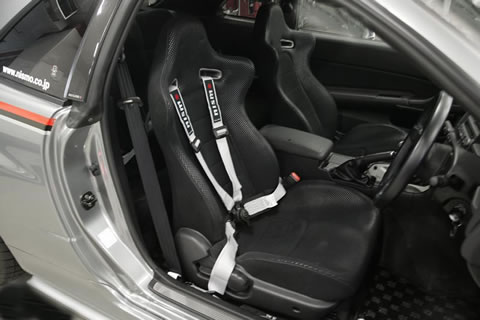 RB26DETT(ニュル仕様)
"R1(R-tune concept ENGINE Spec1)"仕様
2,568cc
450ps/7,600rpm
48kg・m/5,600rpm
3.916 Final Gear
Nismo Weldina NE-1 Exhaust
Brembo F50 Brakes
5,262km !!
Price (2004) : 12,600,000 Yen / $112,000 USD - with inflation that would be around $150,000 USD at todays price before adjusting for R34GTR valuation increase as well.
Original For Sale ad:
http://www.nismo.co.jp/complete/gtr_nur/top.html
R34 GTR V-Spec R-Tune 001 (GTR-Magazine Car)
This car was built for GTRMagazine and featured in Issue 52 - September 2003 and in Issue 42 - January 2002.
GTRMagazine has a full spread on this car's engine build and the car was taken to Germany to test on the Nurburgring. This car was sold through a Zele distributor located in the U.K. around 2005.
1999 R34 GTR V-Spec with FSPORT-GT
This was a Nismo demo car in 2005 at Nismo Festival and was featured in GTR Magazine the same year.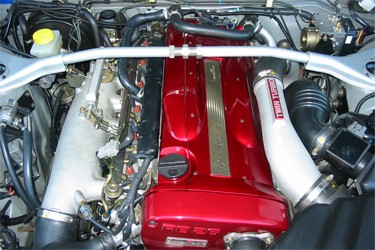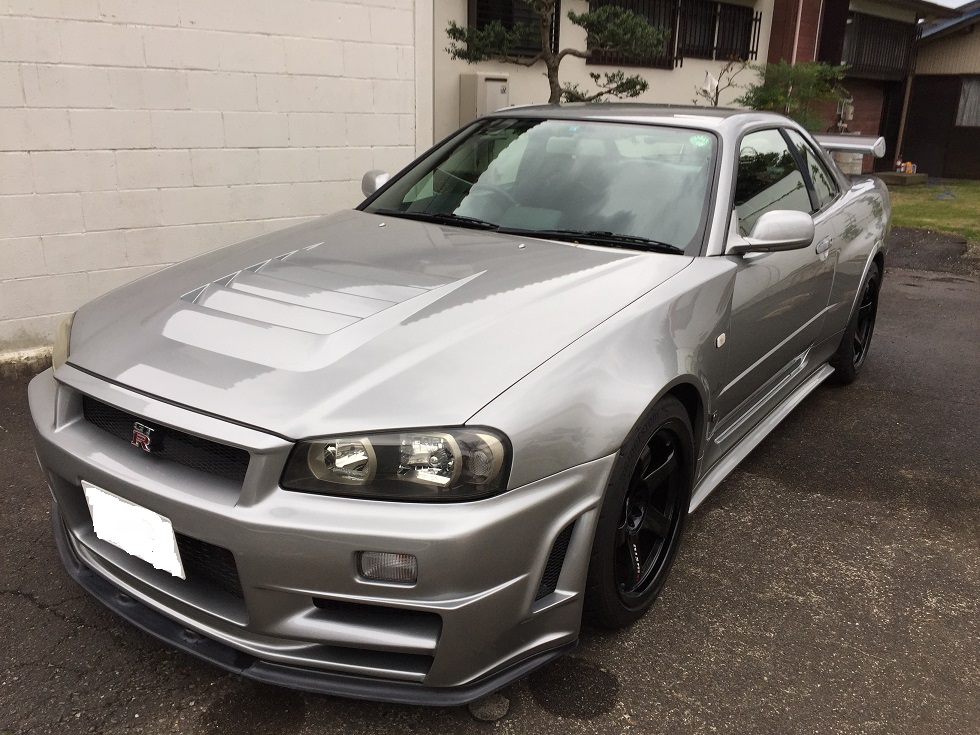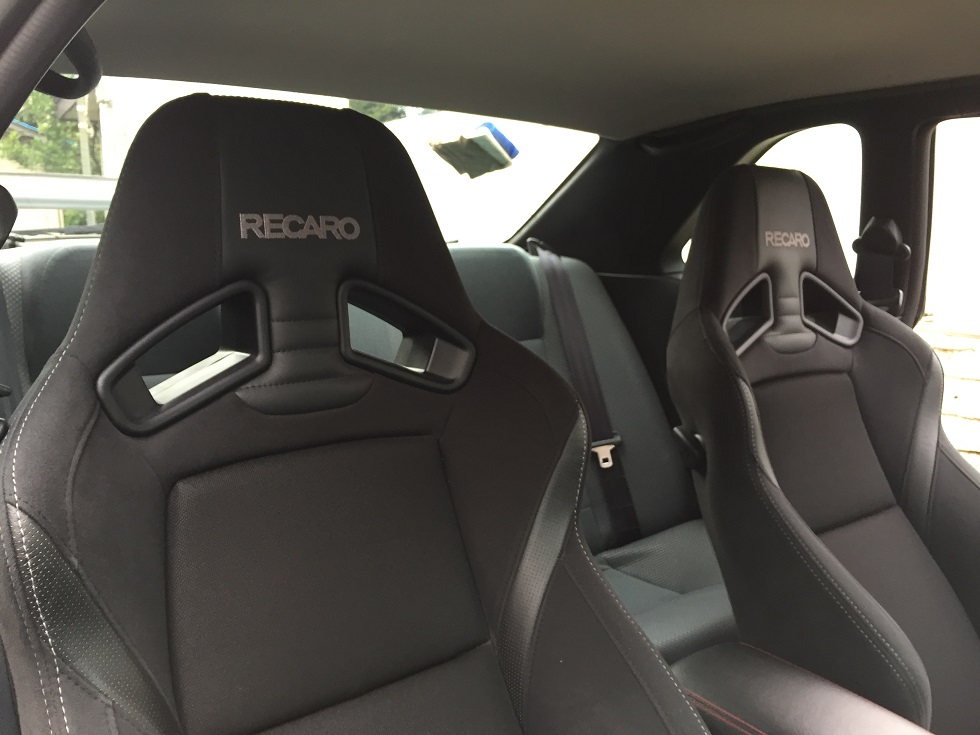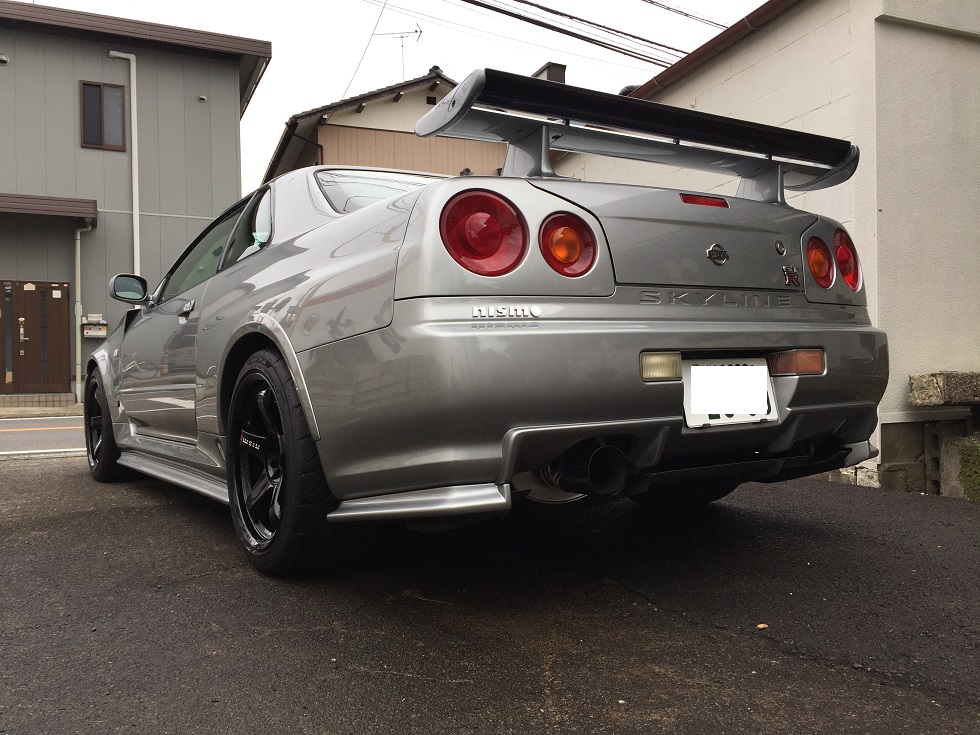 Equipped with F-SPORT GT (2.8L)
GT engine block
GT crankshaft
GT connecting rod spec 1
GT head gasket
GT intake gasket
ECM, sports air filter
racing spark plug
NISMO NE - 1 muffler
NISMO aero part
side skirt set , rear under spoiler
Copper mix clutch disc
reinforced clutch cover
S-tune suspension kit
S-tune brake pad
LM GT 4 GT 500 Ver.2 AW (50 sets limited item)
This car was the first car to be fitted with an FSport-GT engine and was demo'd at Nismo Festival at the end of 2005 after it was built in November of that year. In a future blog post about different variants of FSPORT engines we will post the article from gtr-magazine about the entire build process of this car with translations (hopefully) for everyone to be able to read.

The original selling info is listed below from 2005:
22,000 KM's
Price (2005) : 7,329,000 Yen / $65,000 USD - With inflation that would be around $85,000 USD at current rate before considering R34GTR valuation increase. I think its safe to say a 22,000 KM Vspec with an F-Sport GT would sell for quite a bit more than $85,000 in todays market..

Original For Sale ad:
ttp://www.nismo.co.jp/complete/gtr_11/top.html

Some updated pictures of this car were found that were posted in 2017, we can see the new owner has kept it pretty close to original with some tasteful Nismo mod's over time including newer style LMGT4 wheels, Nismo intake manifold, Nismo old style strut brace and Nismo aluminum intake piping and finishing off with a set of Recaro seats.
2000 R34 GTR with FSPORT GT / "S-TUNE"
This is a pretty unique complete car for the time including both FSPORT-GT & S-Tune parts.
Equipped with F-SPORT GT (2.8L)
 GT engine block
 GT crankshaft
 GT connecting rod spec 1
 GT head gasket
 GT intake gasket
 exclusive ECM
 sports air filter
racing spark plug
Special color head cover
oil filler cap
R - tune air cleaner duct
air inlet pipe
radiator cap
engine oil cooler

Reinforced Clutch Cover
Copper Mix Reinforced DiskWeldina NE - 1 Ver.2 (with sports catalyzer)
S-tune suspension system - shock absorber , coil spring , stabilizer
S-tune brake pad
Stain mesh brake hose
NISMO full aero
Spoiler carbon flap
Package car exclusive emblems
 "NISMO" and "S-tune"CAR'S FACTORY exclusive
 NISMO LM GT 4 GT 500 - gold 18 inch AW
MFD Expansion Kit
Combination Meter (Black)
GT Shift Knob (Titanium)
NISMO Floor Mat with Logo
This car was sold it 2007, a few years after the first FSport-GT complete car.
55,000 km
Price (2007) : 6,700,000 Yen / $60,000 USD With inflation that would be around $73,179.10 USD at current rate before considering R34GTR valuation increase
Notable mentions that were not sold as Complete cars by Zele / Nismo originally include these two cars featuring FSportGT and FSport-R engines.
2001 R34 GTR Vspec II - FSport-GT
This car was sold in 2010 by GlobalAuto to Harlows Jap Autos in U.K. This car is potentially located in Poland currently. (Thanks to a friend for the tip).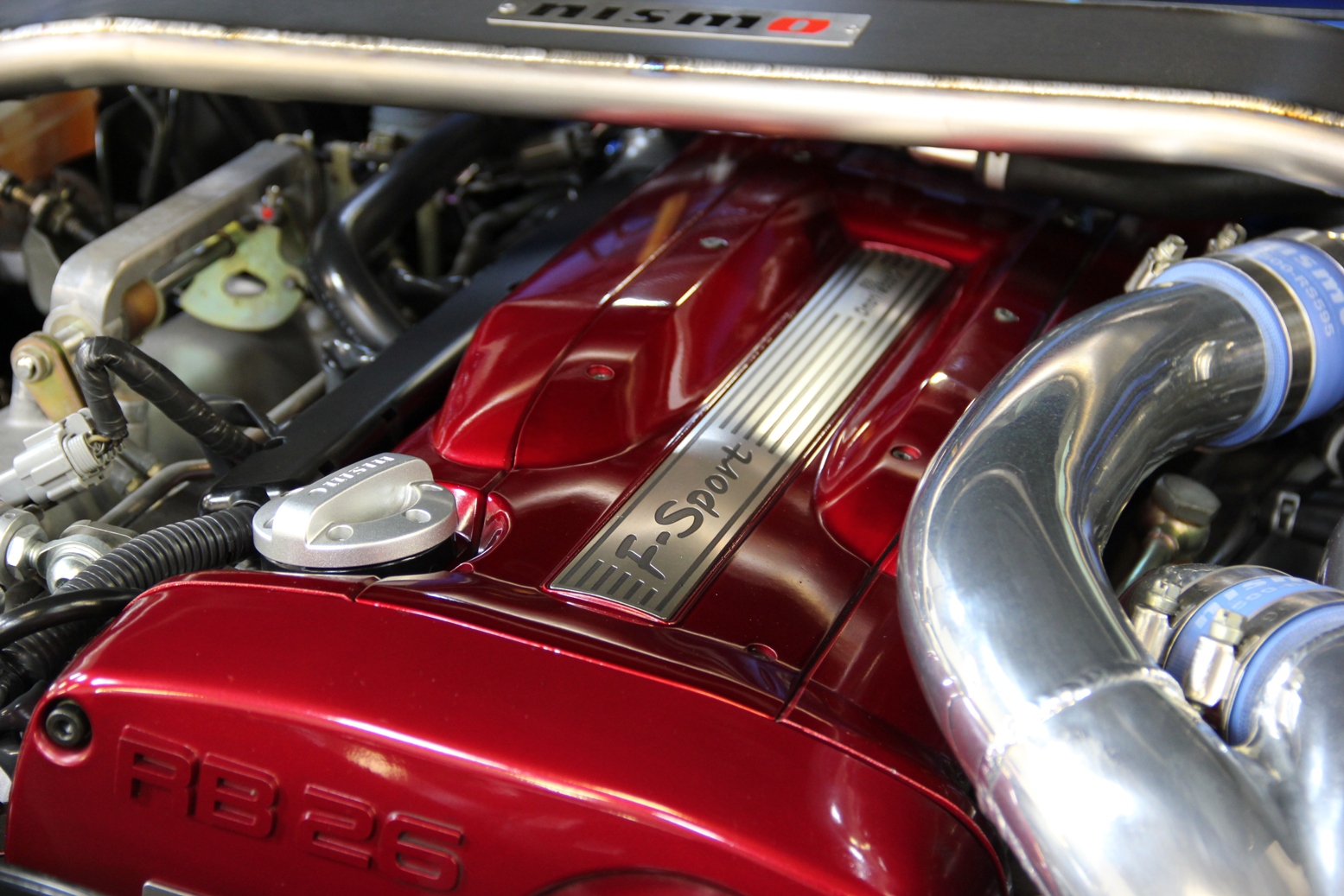 Engine
NISMO large diameter exhaust outlet
NISMO camshaft high lift type
NISMO Metal head gasket 1.8 mm
NISMO engine control unit F-SPORTS GT specification dedicated
NISMO S-TUNE air cleaner
NISMO racing plugs
NISMO GT cylinder block
N1 87Ф1mm oversize piston
N1 piston ring 1mm oversize
N1 connecting rod bearing
NISMO intercooler
NISMO oil cooler
NISMO aluminium radiator
NISMO intake collector
NISMO air inlet pipe
NISMO Super COPPERMIX twin plate clutch
NISMO oil separator

ECU & Controllers
HKS F-CON V-PRO gold Ver.3.3
HKS EVC5 boost controller
APEX digital REV / SPEED meter

Suspension/Wheels/Brakes
NISMO limited GT-LM4 18" 9.5J + 12
DUNLOP DIREZZA Z2 265/35-18 tyres
ENDLESS racing 6POT front calliper
ENDLESS racing 4POT rear calliper
ENDLESS 370Фx32 2 piece brake rotor
ENDLESS 332Фx30 2 piece brake rotor
ENDLESS stainless mesh brake hose
ENDLESS brake pad
CUSCO brake master cylinder stopper
NISMO tension rod replacement front upper link
NISMO rear upper link front replacement rear upper link rear
NISMO rear arm (lower arm) exchange rear suspension member
NISMO rear suspension members bushes
NISMO rear axle bushes
NISMO under floor reinforcement bar
NISMO floor support bar mounting
KM's and selling price are unknown on this. Believed to be sometime in 2010/2011.
2002 R34 GTR V-Spec II Nur - Fsport-R
The only Nur with an F-Sport Engine that we are aware of.
This car is currently owned by us and has been recognized in GTR-Magazine in 2009. This car was owned by a Nismo employee who had Nismo fit an R1 engine in it in 2006, in 2009 he returned the car to Nismo to give it the works, most of which are the same for the current Clubman Race Spec offered by Nismo (Chassis refresh, R35 Brakes, Carbon Driveshaft, Z-Tune Aero etc) before being sold and then auctioned off.

For more details on this car please click here.
We plan to do a few future posts on different topics. This post will be followed by a post about Nismo S-Tune complete cars or a comprehensive post about the different variants of the FSport engine setup.
Currently we are working with the guys at gtr-registry to compile a list of Nismo cars so keep an eye on both of our pages for updates soon!